Bron
Worldfavor
Worldfavor is proud to present a new pulse study, The state of sustainable investments, which was created between July and October 2021, to investigate how investors in the  private equity and venture capital sector work with sustainability and ESG metrics. 38 respondents within the investment sector across all continents conducted our survey of 27 multiple choice and open-ended questions about sustainable investing.
Environmental, Social, and Governance (ESG) are used to communicate impact-drivenKPIs rather than just profit-driven ones. In recent years, ESG has proven to drive both, since a growing interest from investors has affected the global flow of capital towards a more sustainable investment landscape. Our goal with the survey was to feel the pulse on what part sustainability plays in the realm of private equity and venture capital investing, and that's how this study came to be.
– The great thing with ESG is that it's grown in popularity explosively over the last decade. Not only are we looking at new regulations on both a national and a global level, like the SFDR and the EU Taxonomy, but investors are growingly seeing the monetary value of sustainable investments. A company that works proactively with its own impact also needs to be transparent. Those companies are more resilient to change and are also likely to be more profitable, says Andreas Liljendahl, CEO at Worldfavor.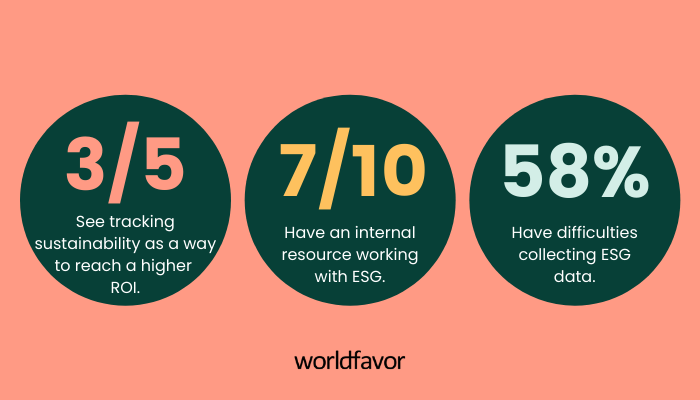 Key insights from the report
Some of the most prominent insights from the pulse study is that many investors are prioritizing sustainability, and have internal resources working work full-time on ESG management, all the while only a fraction uses tools to track and manage data, and overlook including ESG metrics in their term sheets.
A gap between ambitions and routines
Through this pulse study, we recognized that sustainability is a priority for many investors and that a majority tracks sustainability metrics in their investment portfolio. However, many of them still lack the processes to integrate sustainability KPIs successfully.
There is clearly still a gap between the intention and working integrated with ESG and sustainability management. Fortunately, there is help to be claimed, and if there's a will – there's a way!
Download the report to keep reading and view how ESG and sustainability are incorporated into our respondents' current ways of working!